Hotels in Kazan
Our top picks
Lowest price first
Nearest to
Best reviewed
Fast facts about Kazan, Russia
| | |
| --- | --- |
| Accommodations | 1,288 properties |
| Popular hotel | Gulf Stream Hotel |
| Popular area | Vakhitovsky |
| Nightly rates from | $8 |
| Airport | Kazan International Airport |
4-star hotels in Kazan
---
Great experience overall. Very populated hotel due to the mall inside. The Tower part has better rooms than the Royale part. Gym, pool, Turkish bath is in Royale part. Tower Hotel part has the Extra Lounge, which I totally recommend, very friendly staff and great panoramic view over the city.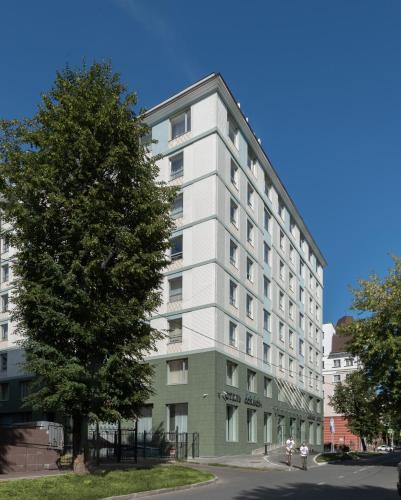 ---
Great hotel, clean and cosy. The breakfast was delicious with huge choice. Staff very friendly and helpful. Good location few minutes walk from metro. Very quite.
9.3 Exceptional
Based on 4 reviews
---
The hotel staff are advanced Russian who can communicate with guests in English. This is more advantageous than most of the hotels in Russia when english cannot be always expected as a channel of communications. We would like thank Alem and his team who has made this hotel friendly to foreign tourists. Alem even helped us to write an Russian "notes" that we could take ...
Elizabeth
, Hong Kong SAR, China
8.6 Excellent
Based on 7 reviews
---
A big hotel which succesffuly manages to maintain a friendly & personal touch. Great location to everything we needed: metro, buses, trams, shops, restaurants.
---
Luxury hotels in Kazan
---
Very nice stay. Friendly staff. 10 mins by bus from the center which never bothered us (and we have two small children), 27roubles per adult and you are anywhere in the city where you want to be. Spa at the hotel was decent - just right - nothing too fancy but just enough to swim and warm up in the hammam. Would definitely stay there again.
---
Frequently asked questions
What properties in Kazan offers the best views?
Verified vacationers to Kazan have given top rated reviews for the views at Cosmos Kazan Hotel, a member of Radisson Individuals, Riviera Hotel and Nogai Hotel.
What are the recommended hotels around Kazan for business travelers?
Resorts in Kazan which are well rated by business travelers are Delux Apartment Bliss in the center of Kazan, Apartment on Sibgata Khakima 52 and Astoria Castro Plaza.
What places to stay found in Kazan are well rated with regards to facilities?
Propertiesaround Kazan that is very highly rated regarding amenities include Don Kikhot Hotel, Apart-Hotel on Pushkina 26 and Lowcost hotel Berison Astronomicheskaya.
What places to stay in Kazan are exceptionally rated with respect to room comfort and quality?
Resortsin Kazan which is well rated for room comfort and quality include Bulgar Hotel, Suleiman Palace Hotel and Stereo Hostel.
What are the most suitable properties in Kazan that has airport transfer?
Accommodations which has airport transfer found in Kazan which are exceptionally rated include Апартаменты Delux, Апартаменты на Островского and Ахмерова.
What are the preferred hotels found in Kazan that have a private beach?
Accommodations that have a private beach in Kazan that are exceptionally rated include Apartment on Chetaeva and Apartment on Chetaeva.
What are the best hotels in Kazan with fitness center?
A place to stay that includes fitness center around Kazan which is highly rated is KazanArena Apartament.
Where can I reserve rooms in Kazan which has free cancellation policy?
Yes, you'll find most hotel rooms offer free cancellation rates, in which you can expect to receive a full refund if you cancel before the deadline. Filter your search by free cancellation to find flexible hotel deals in Kazan.
What's the best neighborhood for shopping in Kazan?
Best areas for your shopping spree in Kazan are Privolzhsky, Vakhitovsky and Sovetsky.
What are some upcoming holidays in Kazan?
Upcoming holidays in city_name include New Year Holiday on 12/30/2023, New Year Holiday on 12/31/2023, and New Year's Day on 1/1/2024.
Is pre-departure covid test required for fully vaccinated tourists to enter Kazan?
Proof of negative pre-departure COVID-19 test may be required to enter Kazan. For recent and detailed information on travel restrictons, please go to the official websites of the travel authority or government of the country you wish to visit, or go to here.
What vaccines are recognized in Kazan?
Moderna, Pfizer/BioNTech, Janssen (Johnson & Johnson) are currently acknowledged and approved by the national health authority of the country that includes Kazan.
Explore more travel vacation rentals
More about Kazan
Discovering the Charm of Kazan, Russia: Fun Facts and Reasons to Visit
Kazan is a city located in the western part of Russia, on the banks of the Volga River. It is the capital of the Republic of Tatarstan and one of the most interesting and exciting destinations in Russia. Kazan is known for its rich history, beautiful architecture, and diverse culture. One of the most interesting facts about Kazan is that it is the only place in the world where you can find both a mosque and a church located side by side. This unique feature is a testament to the city's diverse cultural heritage. There are many reasons to visit Kazan. One of the most popular attractions is the Kazan Kremlin, a UNESCO World Heritage Site. The Kazan Kremlin is a stunning fortress that dates back to the 16th century. It is home to several museums, including the Museum of Islamic Culture, the Museum of Tatarstan, and the Museum of Natural History. Another popular attraction is the Kul Sharif Mosque, which is one of the largest and most beautiful mosques in Russia. The mosque is located inside the Kazan Kremlin and is a must-visit for anyone interested in Islamic architecture.
Traveling to Kazan: How to Get There and the Best Time to Visit
Kazan is easily accessible by plane, train, or car. The city has its own international airport, which is located about 30 minutes from the city center. There are several airlines that operate flights to Kazan, including Aeroflot, Turkish Airlines, and Ural Airlines. The city is also well-connected by train, with daily trains from Moscow and other major cities in Russia. If you prefer to travel by car, Kazan is located on the M7 highway, which connects Moscow and Ufa. The best time to visit Kazan is during the summer months, from June to August. The weather is warm and sunny, and there are many outdoor activities to enjoy. However, if you prefer to avoid the crowds, you can also visit Kazan in the spring or fall. The weather is still pleasant during these months, and there are fewer tourists. If you visit Kazan in the winter, you will experience a true winter wonderland. The city is covered in snow, and there are many winter sports to enjoy, such as ice skating and skiing.
Top Things to Do and See in Kazan: A Guide for Travelers
Kazan has a lot to offer travelers, from stunning architecture to delicious food. One of the top things to do in Kazan is to visit the Kazan Kremlin. The Kremlin is a must-visit attraction, as it is one of the most well-preserved and beautiful fortresses in Russia. The Kul Sharif Mosque, located inside the Kremlin, is also a must-visit. The mosque is one of the largest and most beautiful in Russia and is a testament to the city's Islamic heritage. Another popular attraction in Kazan is the Bauman Street. This pedestrian street is located in the heart of the city and is lined with shops, cafes, and restaurants. It is a great place to stroll, people-watch, and soak up the local atmosphere. Another must-visit attraction is the Kazan Family Center, which is a modern architectural masterpiece. The center is home to several museums, including the Museum of Soviet Life, the Museum of 3D Art, and the Museum of Chocolate.
Where to Stay in Kazan: Best Hotels and Accommodations
Kazan has a wide range of hotels and accommodations to suit all budgets and preferences. One of the top hotels in Kazan is the Courtyard by Marriott Kazan Kremlin. This hotel is located inside the Kazan Kremlin and offers stunning views of the city. The hotel has a fitness center, a restaurant, and a bar, and the rooms are spacious and comfortable. Another great hotel in Kazan is the TatarInn Hotel. This hotel is located in the heart of the city and is within walking distance of many of the top attractions. The hotel has a restaurant, a bar, and a 24-hour front desk, and the rooms are modern and well-equipped. If you are looking for a budget-friendly option, the Volga Hotel is a great choice. This hotel is located in the city center and offers basic but comfortable rooms at an affordable price. The hotel has a restaurant, a bar, and a 24-hour front desk.
Exploring Kazan's Cuisine: What to Eat and Where to Find It
Kazan is known for its delicious cuisine, which is a blend of Tatar, Russian, and European influences. One of the most popular dishes in Kazan is chak-chak, which is a sweet pastry made from fried dough and honey. Another must-try dish is the Tatar meat pie, which is a savory pastry filled with meat and potatoes. If you are looking for a restaurant in Kazan, there are many great options to choose from. One of the top restaurants in Kazan is the Dom Tatarskoy Kulinarii, which serves authentic Tatar cuisine in a cozy and welcoming atmosphere. Another great option is the Bulgar Restaurant, which offers a fusion of Tatar and European cuisine in a stylish and modern setting.
Traveling Around Kazan: Tips and Tricks for a Hassle-Free Experience
Kazan is a relatively small city, and it is easy to get around on foot or by public transportation. The city has a well-developed public transportation system, which includes buses, trams, and trolleybuses. If you prefer to travel by taxi, there are many taxi companies in Kazan, including Uber and Yandex.Taxi. If you are planning to visit Kazan, it is a good idea to learn some basic Russian phrases. While many people in Kazan speak English, knowing some Russian will make your trip much easier and more enjoyable. It is also a good idea to bring comfortable walking shoes, as many of the top attractions in Kazan are located within walking distance of each other. Overall, Kazan is a fascinating and beautiful city that is definitely worth a visit. Whether you are interested in history, architecture, or food, there is something for everyone in Kazan. And if you are looking for a hassle-free way to book a hotel in Kazan, be sure to check out Agoda.com, which offers a wide range of hotels and accommodations to suit all budgets and preferences.