Hotels in Queretaro
Our top picks
Lowest price first
Nearest to
Best reviewed
Fast facts about Queretaro, Mexico
| | |
| --- | --- |
| Accommodations | 370 properties |
| Popular hotel | Hotel Mirabel |
| Popular area | Queretaro City Center |
| Nightly rates from | $12 |
| Airport | Querétaro Intercontinental Airport |
Where to stay in Queretaro
---
4-star hotels in Queretaro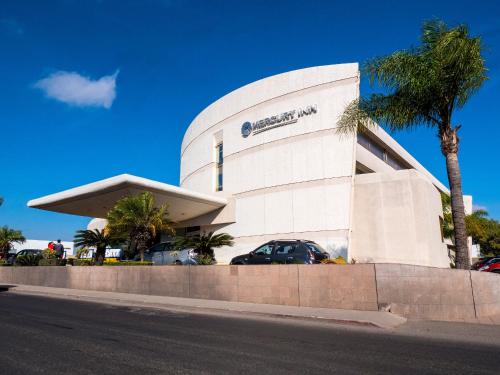 9.1 Exceptional
Based on 5 reviews
---
The hotel is good, clean and well located. In our case, the only dissapontment was that the pool was very cold and we couldn't use it.
9.1 Exceptional
Based on 5 reviews
---
Well, I have to admit I was a little nervous when I saw that it was an eighteenth century remodel and had a "three-star hotel" rating, but with all the rave (five-star) user reviews, I decided to go for it. We were soooooo glad we did! My wife and I stayed there last night. Being Valentine's Day, we wanted something nicer than a regular hotel room, and their att...
8 Excellent
Based on 1 reviews
---
Very friendly staff. I like the style of their building. Large room, good facilities. Just the towels were a bit too old.
8.1 Excellent
Based on 9 reviews
---
Centro 19 is a really good hotel for people who visit Queretaro, whether you're business traveler, solo traveler, or traveler with family, their friendly staff would help you to have a nice experience during your stay in Centro 19. free high speed wifi because of small scale of the hotel getting even more effective. Centro 19 surrounded by reastrunt, cafe and bars, y...
8.7 Excellent
Based on 21 reviews
---
We had an excellent stay at the Mirage. Our suite was spacious, the beds were very comfortable, the bathroom was good, WiFi was strong and we had a nice view overlooking the city. The hotel staff was friendly and helpful. I used a computer in the business center to print some papers and the service was fast and reasonably priced. The Mirage has an excellent exercis...
8.4 Excellent
Based on 2 reviews
---
Lovely motel/hotel on fifteen minute walk to Centro Queretero, five minute walk to major traditional market. Spotlessly clean, well maintained, fabulously trained staff, exceptional restaurant which is very popular, quiet, accepts pets in special uncarpeted rooms at no surcharge, very east find and exit from by car, strong signal Wi-Fi.
8.9 Excellent
Based on 37 reviews
---
as you may know it is not safe to drink water from the faucet in mexico so it is better to drink bottled water. the hotel provides a bit more than 1 liter per day for two people of bottled water. if you want more bottled water you have to pay. i asked for a jar of drinking water but they said that they had to charge for that as well. people at the front desk ha...
8.9 Excellent
Based on 3 reviews
---
The hotel is in a great location in the center of the city. The facilities are good with a nice little swimming pool and to jacuzzis on the terrace. The staff were very friendly and helpful and the breakfast delicious. The main issue we had was the room itself. It was clean and the decor fine but the lack of a window and air conditioning meant it got hot and stuffy. Al...
---
Luxury hotels in Queretaro
9.3 Exceptional
Based on 8 reviews
---
Wonderful old house with lots of history. Even had a roof terrace with a jacuzzi. Only downer was the breakfast: Very basic mexican buffet. Definitely needs some upgrading.
8.7 Excellent
Based on 1 reviews
---
very good experience; stylish room; good staff service; simple breakfast; excellent location
---
Real reviews for hotels
Queretaro is one of my favorite cities in Mexico. Its a nice lovely city with much less traffic than D.
The best things to see are the amazing aqueduct and the converted Augustine convent. There are also a couple of lovely squares and gardens for relaxing and eating in.
A lovely colonial and Aztec city, up into the foothills of the Sierra Gordas, one of the richest and best-educated in Mexico, and easily the cleanest and safest.
---
Frequently asked questions
What's the average price of a hotel in Queretaro?
The typical price for a 3-star hotel in Queretaro is USD 70. The typical price for a 4-star property in Queretaro is USD 83. The average price for a 5-star resort in Queretaro is USD 152.
What's the average price of a hotel in Queretaro this evening?
The typical price for a 3-star hotel in Queretaro this evening is USD 70. The average price for a 4-star property in Queretaro tonight is USD 84. The typical price for a 5-star hotel in Queretaro this evening is USD 147.
What are the most famous places to stay in Queretaro?
A handful of of our most recognized resorts in Queretaro are Hotel Amberes, Hotel FUJITAYA and Hotel Mirabel.
What are the top properties in Queretaro for families?
Resorts in Queretaro that are highly ranked by families include Hotel Amberes, Hotel FUJITAYA and Hotel Mirabel.
What are the best places to stay located in Queretaro intended for lone travelers?
Accommodations around Queretaro that are well rated by lone tourists are Hotel Amberes, Hotel FUJITAYA and Hotel Mirabel.
What are the recommended properties located in Queretaro for business visitors?
Accommodations around Queretaro which are highly rated by business travelers are Hotel Amberes, Hotel FUJITAYA and Hotel Mirabel.
Are foreign travelers allowed into Queretaro?
International tourists are allowed into Queretaro, according to our most current information. Due to evolving restrictions, we suggest you check out here for more information.
Is quarantine mandatory for fully vaccinated travelers to enter Queretaro?
Quarantine may be required for fully vaccinated vacationers to enter Queretaro from outside the country. For updated and in depth information on travel restrictons, please head over to the official websites of the travel authority or government of the country you wish to travel to, or go to here.
Is proof of vaccination needed to enter Queretaro?
Proof of COVID-19 vaccination is not required to enter Queretaro from outside the country. For further information, please reach out to local authority or check out here.
Explore more travel vacation rentals
More about Queretaro
Discovering Queretaro: Fun Facts and Reasons to Visit
Queretaro is a charming colonial city located in central Mexico, known for its rich history, stunning architecture, and vibrant culture. The city was founded in 1531 and has since become a UNESCO World Heritage site due to its well-preserved colonial buildings and landmarks. Queretaro is also famous for its role in Mexican history, as it was a key location during the Mexican War of Independence. Aside from its historical significance, Queretaro is also a hub for art and culture. The city boasts numerous museums, galleries, and theaters, as well as a thriving music scene. Visitors can also enjoy a variety of outdoor activities, such as hiking, biking, and horseback riding. With so much to offer, it's no wonder that Queretaro is quickly becoming a popular destination for travelers from around the world.
Getting There: How to Travel to Queretaro
Queretaro is easily accessible by air, with the Queretaro International Airport (QRO) serving both domestic and international flights. From the airport, visitors can take a taxi or shuttle to their hotel or other destination. For those traveling by car, Queretaro is located along the Pan-American Highway, making it an easy stop for road trippers. The city is also well-connected by bus, with several major bus companies offering service to and from Queretaro.
Top Things to Do in Queretaro: A Guide to Fun and Adventure
There is no shortage of things to do in Queretaro, whether you're interested in history, culture, or adventure. Some of the top attractions include: - Centro Historico: The heart of Queretaro's colonial center, the Centro Historico is home to numerous historic buildings, including the iconic aqueduct and the Templo de la Santa Cruz. Visitors can stroll the cobblestone streets, visit museums and galleries, and enjoy local cuisine at one of the many restaurants and cafes. - Jardin Zenea: This picturesque park is a favorite among locals and visitors alike, with its fountains, gardens, and live music performances. It's the perfect place to relax and soak up the atmosphere of Queretaro. - Cerro de Las Campanas: This hill on the outskirts of Queretaro is where the Mexican Emperor Maximilian was executed. Visitors can hike to the top and enjoy panoramic views of the city and surrounding countryside. - Teatro de la Republica: This historic theater is where the Mexican Constitution was signed in 1917. Today, it hosts a variety of cultural events, including concerts, plays, and dance performances. - La Pena de Bernal: Just outside of Queretaro, this towering monolith is a popular spot for hiking and rock climbing. It's also home to a charming village with shops and restaurants.
Booking Your Stay in Queretaro: Why Agoda.com is Your Best Bet
When it comes to booking your stay in Queretaro, Agoda.com is the best choice for hassle-free and affordable hotel bookings. With a wide range of options, from budget-friendly hostels to luxurious resorts, Agoda.com has something for every traveler. Plus, with its easy-to-use website and mobile app, you can book your stay in just a few clicks. Some of the top hotels in Queretaro include: - Hotel Crown Victoria: This charming hotel is located in the heart of the Centro Historico, with easy access to all the top attractions. It features comfortable rooms, a rooftop terrace, and a restaurant serving traditional Mexican cuisine. - Hotel Real Alameda de Queretaro: This elegant hotel is housed in a historic building and features spacious rooms, a fitness center, and a restaurant. It's located just a short walk from the Jardin Zenea and other top attractions. - Plaza Camelinas Hotel: This modern hotel offers stylish rooms, a pool, and a fitness center. It's located in the upscale Juriquilla neighborhood, just a short drive from the city center. - Hi Hotel Impala Queretaro: This budget-friendly hotel offers basic rooms and a convenient location near the bus station. It's a great choice for travelers on a tight budget. - Hotel Hidalgo: This boutique hotel is located in a historic building in the Centro Historico. It features spacious rooms, a rooftop terrace, and a restaurant serving regional cuisine.
The Best Time to Visit Queretaro: Tips for Planning Your Trip
Queretaro enjoys a mild climate year-round, with temperatures averaging between 60 and 80 degrees Fahrenheit. However, the best time to visit depends on your interests and preferences. For those interested in history and culture, the best time to visit is during the fall and winter months, when the city hosts numerous festivals and events. The Day of the Dead celebration in November is particularly popular, with colorful parades and elaborate altars throughout the city. If you're looking for outdoor activities, spring and summer are the best times to visit, when the weather is warm and sunny. However, be prepared for occasional rain showers during the summer months.
Traveling Around Queretaro: A Guide to Transportation and Getting Around
Queretaro is a relatively small city, and most of the top attractions are located within walking distance of each other. However, if you need to travel further afield, there are several transportation options available. Taxis are plentiful and affordable, and can be hailed on the street or arranged through your hotel. Uber is also available in Queretaro, and is often cheaper than traditional taxis. For those on a budget, the local bus system is a good option. Buses are frequent and inexpensive, with routes throughout the city and surrounding areas. However, be prepared for crowded buses during peak hours.
What to Eat in Queretaro: A Foodie's Guide to the Best Local Cuisine
Queretaro is known for its delicious cuisine, which blends traditional Mexican flavors with local ingredients and influences. Some of the must-try dishes include: - Enchiladas queretanas: These enchiladas are made with a red chili sauce and filled with potatoes, carrots, and cheese. They're often topped with cream and served with rice and beans. - Barbacoa: This slow-cooked meat dish is a favorite throughout Mexico, and Queretaro is no exception. It's typically served with fresh tortillas and a variety of toppings, such as cilantro, onions, and lime. - Carnitas: Another popular meat dish, carnitas is made by slow-cooking pork in its own fat until it's tender and crispy. It's often served with tortillas, salsa, and guacamole. - Gorditas: These thick corn tortillas are stuffed with a variety of fillings, such as beans, cheese, or meat. They're often topped with salsa and served as a snack or light meal. - Cerveza artesanal: Queretaro is home to several craft breweries, and beer lovers won't want to miss trying some of the local brews. Some of the top breweries include Cerveceria Hércules and Cerveceria La Bru.
Visiting Queretaro: Tips and Tricks for a Hassle-Free Trip
To make the most of your trip to Queretaro, here are some tips and tricks to keep in mind: - Wear comfortable shoes: Queretaro's historic center is filled with cobblestone streets and uneven sidewalks, so comfortable shoes are a must. - Stay hydrated: Queretaro can get hot and humid, especially during the summer months. Be sure to drink plenty of water and stay out of the sun during the hottest parts of the day. - Learn some Spanish: While many locals in Queretaro speak English, knowing some basic Spanish phrases can go a long way in making your trip more enjoyable. - Be aware of your surroundings: Queretaro is generally a safe city, but it's always a good idea to be aware of your surroundings and take precautions to protect yourself and your belongings.
Where to Stay in Queretaro: A Guide to the Best Hotels and Accommodations
When it comes to choosing where to stay in Queretaro, there are plenty of options to suit every budget and preference. Some of the top neighborhoods to consider include: - Centro Historico: This is the heart of Queretaro's colonial center, and is home to many of the city's top attractions. There are numerous hotels and guesthouses in this area, ranging from budget-friendly to luxurious. - Juriquilla: This upscale neighborhood is located just outside of the city center and is known for its beautiful homes, shopping centers, and golf courses. There are several hotels and resorts in this area, many of which offer stunning views of the surrounding countryside. - El Campanario: This gated community is located on the outskirts of Queretaro and is known for its luxury homes and amenities. There are several high-end hotels and resorts in this area, many of which offer spa services and other luxury amenities. No matter where you choose to stay, be sure to book your accommodations through Agoda.com for the best deals and hassle-free booking.